ASE Blue Seal Of Excellence Shop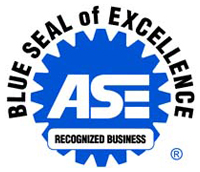 We employ ASE Certified and ASE Certified Master Technicians. This means we are very qualified to provide service on your vehicles. We are committed to continuing education with the ASE which is the Institute for Automotive Service Excellence. This institution is the most recognized in the nation for automotive training and certification. At Woodard Automotive in Fredericksburg VA, we are known for our professional, efficient and friendly manner. Some of our services include, and are not limited to:


Auto Repairs
BG Products & Services
Diesel Scheduled Maintenances
Domestic Vehicle Repairs
Foreign Import Vehicle Repairs
Hunter Hawkeye 3D Alignment System
Van Repairs
Bring your vehicle to us for your repairs and maintenance, relax in our comfortable, air conditioned waiting room equipped with TV,WIFI and coffee and enjoy our fast, friendly service!
Woodard Automotive is owned and operated by Andy and Lori Kean. Andy has been in the automotive repair business for over 25 years. He is an ASE Certified Master Technician, a Virginia State Inspector, Certified Emissions Inspector, and a Certified Emissions Repair Technician. He specializes in advanced diagnostics and repair services on all makes and models.
His wife, Lori, has been in the automotive business for over 10 years but has over 20 years of customer service experience. She has owned and operated a very successful local dog grooming and boarding facility. She still loves to spend her days with the dogs so don?t be surprised to see some of their 4-legged family members at the shop.
Their son Brayden, is one of their technicians. He is an ASE Certified Technician, Virginia State Inspector, and Certified Emissions Inspector.
Together, our goal is to provide every customer with exceptional service coupled with a quality repair. We want to EARN your trust and your business.
Woodard Automotive has been a staple of the Fredericksburg automotive scene since 1989. We've spent this time proudly serving the Fredericksburg area and have become a valued part of the community. Whether you need general upkeep and maintenance or a complete vehicle overhaul, Woodard Automotive has been there to provide excellent service and trustworthy advice.

Our customers return to us whenever they have an issue or even a small concern about their vehicle because they know that they'll receive the very best in automotive care. Our highly trained technicians allow us to provide solutions to a wide range of problems, getting you back on the road quickly without breaking the bank on repairs. Woodard Automotive specializes in Safety Inspections/ Emission Repair, Car & Truck Care, Electronic Services, Electrical Services, General Services, Heating and Cooling Services, Engine & Transmission, Miscellaneous Services, Towing, and Transmission Services and we are proud to help our customers get our safely on the road.

Stop in or give us a call at 540-373-5269 to let us know how we can help you!